Prince Michel & Tap 29 Brewery
October 16, 2021
5:00 p.m. - 8:00 p.m.
Prince Michel & Tap 29 Brewery - 154 Winery Lane, Leon, VA 22725
The Wavelength is a consortium of Charlottesville's finest musicians. Led by vocalist/harmonica Waverly Milor, they perform vintage rock, blues,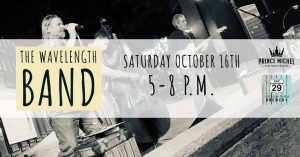 originals and more. The Wavelength is professional, passionate and is known for highly engaging shows!