SUNDAY, MARCH 13, 2022 AT 12 PM
Pokémon GO!!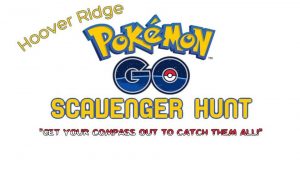 We've got a mission for you! Several Pokémon characters are hiding in Hoover Ridge Park! Most all of them are hiding in the woods in the Clore Trails, but there are a few RARE ones scattered around the park.
We've given you the latitude and longitude coordinates and directions in order to find them! Just open the Compass app on your smartphone (make sure location settings are ON), and start walking! It may take a minute to get acclimated and figure out how to work the compass and read the coordinates we've provided.
Once you've got the ones in the woods, continue walking around Hoover Ridge for the remaining three!
The Pokémon GO! hunt will be available
now through March 13. We will put up a new hunt the next day. Instruction sheets can be found online and printed or on the fence by the Camp Crockett Picnic Shelter.
Free event available whenever you are!
**WATCH WHERE YOU STEP!!! Be aware of your surroundings, and check your coordinates frequently, rather than watching the compass instead of where you're walking!!