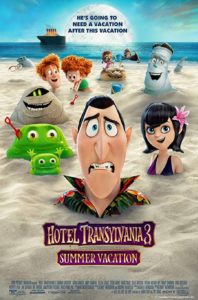 Saturday, November 17, 2018 at 5:30 -9 pm
Please join us for the Movies in the Park – Family Night showing of Hotel Transylvania 3 – Summer Vacation! Admission is free for all. Blankets and chairs are recommended. We will have popcorn available. Stay tuned for food options!
The event area opens for seating at 5:30PM. Please note that there will be special zoned seating (blankets in front, chairs in back) to accommodate all guests. Please do your part!
No pets allowed in this section of the park during the event.
At this time, the location is TBD – either at Hoover Ridge Park or Wetsel Gymnasium.
This event is sponsored by MCPRA Women's Volleyball.