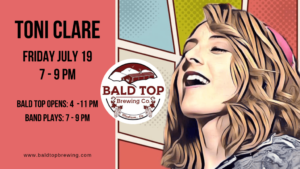 Bald Top opens: 4 – 11 pm
Band: Toni Clare plays 7 – 9 pm
Food: Mexican Taco Food Truck
FREE ENTRY TO ALL!  
WE DON'T CHARGE FOR OUR MUSIC!
Local Singer Songwriter Musician Toni Clare is back at Bald Top!
Toni Clare is one of the hottest upcoming Female Country Artists. Performing since the age of ten, she has developed a style that fits today's country music. Influenced by Taylor Swift, Miranda Lambert, Carrie Underwood, Jennifer Nettles, and Florida-Georgia Line, her sound is radio ready and appeals to a wide audience of Country and Pop music fans.
Don't miss this fantastic performer, who is rapidly becoming a household name!
Plus we will have some great food from the Mexican Taco Food Truck!!