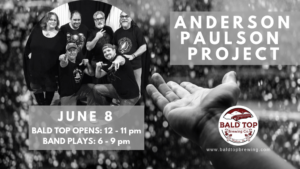 Saturday, June 8: we open 12 – 11 pm
Band: Anderson Paulson Project plays 6 – 9 pm
Food: Mexican Taco Food Truck     We are so excited to have The Anderson Paulson Project back at Bald Top! This fantastic band will be covering classic rock and country!  Make sure to bring a friend and some dancing shoes!  We will provide the delicious craft beer!  with yummy food from the Mexican Taco Food Truck !