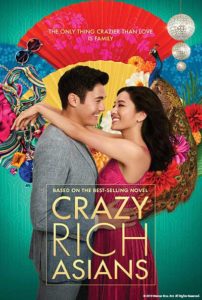 Hoover Ridge Park presents Movies in the Park – Adult Night Out! Enjoy a beautiful evening out at Hoover Ridge with a glass of wine from DuCard Vineyards, followed by Dinner provided by Bavarian Chef. After sunset, relax with a great movie under the stars! The featured movie will be "Crazy Rich Asians".  
Early Bird Tickets are available for $15 each if purchased by May 29 and will go up to $20 after. Tickets include a food voucher for Bavarian Chef up to a $15 value. We will also have free popcorn available.  
Wine by the glass or bottle will be available on-site by DuCard Vineyards. Wine must be purchased separately – it is NOT part of the ticket price.  
All guests must provide valid ID and must be 21 or older to attend. NO ONE UNDER THE AGE OF 21 WILL BE PERMITTED IN THE EVENT AREA.  
The event area opens at 6:30 PM and the movie will start at dusk (around 8:30PM).  
Guests may bring blankets and chairs. Outside drink is NOT permitted. Animals of any kind are NOT permitted. 
We will have a fire going in our new fire pit if needed! 
The event is sponsored by Madison Parks and Recreation Women's Volleyball.  
THE MOVIE:
"Crazy Rich Asians" follows native New Yorker Rachel Chu (Constance Wu) as she accompanies her longtime boyfriend, Nick Young (Henry Golding), to his best friend's wedding in Singapore. Excited about visiting Asia for the first time but nervous about meeting Nick's family, Rachel is unprepared to learn that Nick has neglected to mention a few key details about his life. It turns out that he is not only the scion of one of the country's wealthiest families but also one of its most sought-after bachelors. Being on Nick's arm puts a target on Rachel's back, with jealous socialites and, worse, Nick's own disapproving mother (Michelle Yeoh) taking aim. And it soon becomes clear that while money can't buy love, it can definitely complicate things.