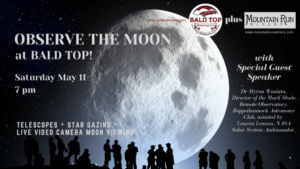 Saturday, May 11: open 4 – 10 pm
Food: 106 Street Food Truck  We are so excited to invite everyone over to Bald Top on Saturday, May 11, to come and look at the Moon with us!  Dr Myron Wasiuta, Director of the Mark Slade Remote Observatory, Rappahannock Astronomy Club, will be in the Tap Barn giving a talk and sharing his vast knowledge about the moon, stars and galaxies! Assisted by NASA Ambassador Lauren Lennon, this is going to be a stellar evening!   A telescope set up outside will give a live camera feed to the big TV screen in our Tap Barn, so that we can all enjoy the experience together.  Bring your children, friends and pets – all are most welcome.  Come to Bald Top and with Dr Wasiuta's guidance, let us learn together, observe, appreciate and widen our understanding of the moon and its connection to planetary science!  We are also delighted to announce that there will be WINE!
Our friends over at Mountain Run Winery, Culpeper, VA (http://www.mountainrunwinery.com) will be joining us on this evening, to pour a fine selection of their top-notch Virginian wines! (Wine pours from 4 pm – 9 pm)  And we have a delicious selection of our own ice-cold, craft beers or soft drinks to purchase!  What's not to love?!   See you there!