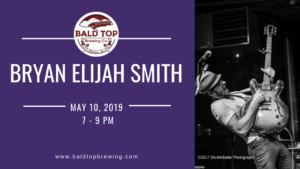 Friday, May 10: open 4 – 10 pm
Music: Bryan Elijah Smith
Food: Spice Sea Gourmet Food Truck  Bryan Elijah Smith is back at Bald Top!!!  Bryan Elijah Smith is an 'Alternative-Americana' singer-songwriter based out of the Shenandoah Valley in Virginia. 
Smith's innate songwriting ability and haunting voice leave you with a sense of timeless nostalgia. With over 1,000 songs penned & 10 independent releases, Smith is creating a self-produced legacy that began with his first song at the age of 18. The music cradles all things 'Americana' at heart & at hand without shying away from a truly uninhibited pop sensibility. Crossing a wide array of genres, what gets produced has been compared to the likes of everyone from Bruce Springsteen to Kings of Leon. Smith recently won 2nd place in the prestigious Chris Austin Songwriting Contest at MerleFest 2018 where he was 1 of 12 songwriters chosen out of 1,000+ entries.  Visit Bryan's website here: https://www.bryanelijahsmith.com/about  
Make sure to bring your dancing shoes!