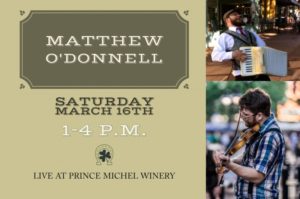 Enjoy authentic Celtic sounds to celebrate St. Patty's Day with us on Saturday March 16th from 1- 4 p.m.!
Matthew O'Donnell is a one-of-a-kind entertainer, singer, multi-instrumentalist and performer of traditional Celtic folk, American roots and popular music based in Central Virginia.
Matthew performs a high-energy blend of traditional Celtic music and modern foot-stomping neo-folk. Drinking songs, traditional folk tunes, sea shanties and singalong standards are given an updated 21st-century treatment!