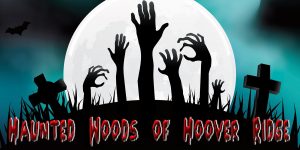 Dare to be scared! The Haunted Woods of Hoover Ridge returns on Saturday, October 30!
Guided tours will be available from 7:00 PM with the last group going at 10:20 PM.
Don't let the fact that these are guided tours fool you! Our guides are merely there as a precaution – you'll still be terrified as you walk deep into the woods along our new trail!
Cost: 10 per trip
Fast Pass available through Eventbrite – just select your time slot and you'll be able to jump to the front of the line!
Admission is still available at the gate. Cash and credit cards will be accepted.
Food truck Salsa Street Grill will be on-site for food purchases.
**The trail is about .5 miles long over uneven terrain. Comfortable shoes are recommended. Costumes encouraged.
**Special effects, including but not limited to strobe lights, loud noises, special effects, fog, etc. will be used.
**We are not responsible for accidents. Attendance is voluntary.
**Not recommended for small children.