Blue Quartz Winery & Shotwell Run Brewery
August 13, 2021
6:00 p.m. - 9:00 p.m.
Blue Quartz Winery & Shotwell Run Brewery - 2585 S. F.T. Valley Rd., Etlan, VA 22719
It's a lucky Friday the Thirteenth with Zuzu's Hot 5 taking the stage at the Tasting and Tap Room! The Patio Grill will be fired up serving burgers, brats and dogs to go with your delicious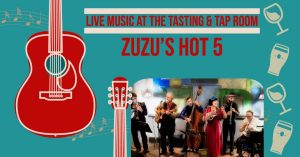 Virginia wine and tasty craft beer.