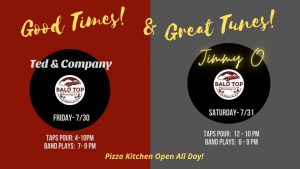 JUL 30 AT 4 PM EDT – JUL 31 AT 9 PM EDT
More excellent blues funk from Ted & Co. Ted will tread us with some guitar solos that will blow your mind!
Great music stories and country tunes for the ages by the regional master, Jimmy O!
We hope you will join us this weekend!
Also open Sunday, 1-7pm for some of Central VA's best views, serenity and some food and beverages to keep you satiated!