WEDNESDAY, JULY 28, 2021 AT
Live Music by Spencer Hatcher!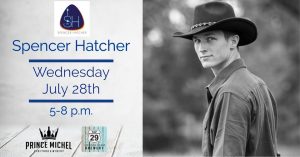 Spencer is from Timberville, Virginia, located in the Shenandoah Valley. His fan base is growing rapidly with over 300,000 followers and millions of views on social media. Spencer started his band in 2020, taking his brother Connor on the road with him. Their music is comprised of classic country, current country, and
various original songs written and performed by Spencer. Spencer excels in playing the guitar and banjo. His playlist includes a few popular bluegrass songs as well. Spencer and Connor's unique blend of brother harmony is unequaled in the industry. Their first album will be released early this Summer. You can check out his music at 
spencerhatchermusic.com.
The pub is open from 12-8 p.m.