Blue Quartz Winery & Shotwell Run Brewery
July 3, 2021
12:00 p.m. - 8:00 p.m.
Blue Quartz Winery & Shotwell Run Brewery - 2585 S. F.T. Valley Rd., Etlan, VA 22719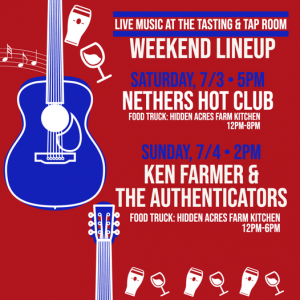 It's Birthday Weekend for America! The holiday weekend means the Tasting and Tap Room is OPEN on Monday, July 5 from 12-5. Join us for a low key, family friendly July 4th celebration on Sunday or on any other day of the long weekend. Delcious wine, hard cider, beautiful views, food and music await.