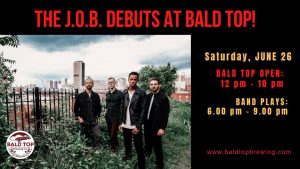 SATURDAY AT 6 PM EDT – 9 PM EDT
May I Have Your Attention: The J.O. Band is Here Saturday!
Jim O'Ferrell and his band hail from Richmond & will be sharing their original rock music from our big stage!
Come join us this Saturday and stay for an evening of moving and original music! We are truly excited to host these guys!
Family friendly for all ages and our four legged family members!
We open at noon on Saturday & close about 10pm. Our Scratch pizza kitchen closes at 9pm.