Bluegrass Pickers' Jam in the Blue Ridge
Free Jamming At Graves Mountain Farm Campground.
Camping is just $10 pp per nt. Kids half price, little ones free.
The dates are in April, June, August and October, each Friday and Saturday of April 23-24, June 4-5, August 27- 28. and October 29-30 – Halloween Weekend.  
Please bring your instrument and sit in, bring a camp chair and listen, cruise from RV to RV, listening.
Vince May, the volunteer jams organizer says, "Please keep in mind that these are not music festivals with paid performers, rather these are informal community "jams" with both dedicated and learning Bluegrass pickers coming together for weekends of music, fun and a beverage or three."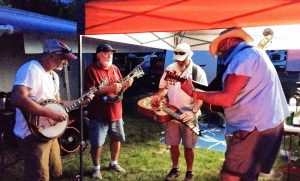 The Pickers are free-form in the Campground. As always.
The camp ground sits in the lee of the mountains of the Blue Ridge, 11 miles west of Madison, VA, surrounded by 1100 acres of farm with animals, horses, meadow, forest and home style southern cooking at the Lodge.
The jam weekends get tuned up for picking on the Friday night and continue through Saturday night with a leisurely pack up of RV and car on Sunday.
"Lots to do on the farm, streams, and mountains – not just picking all the time. Please pass this along to others you know and we look forward to seeing you for the weekend."
Jamming Fri night, Sat day and night.
Drop in for the day or stay the night