SUNDAY AT 1 PM EDT – 6 PM EDT
Join Us for Egg Hunts and Games for All Ages!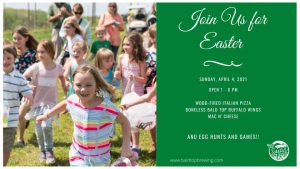 1:15pm: Toddlers (0-4yrs old)
1:30pm: Kids (5-12 yrs old)
3:00pm: Bigger Kids (13yrs and Up!)
Eggs contain pre-wrapped candies plus coupons for BT merchandise and other products that are included in all three hunt events.