SATURDAY, APRIL 3, 2021 AT 1 PM EDT – 4 PM EDT
The Meisha Herron Band Live!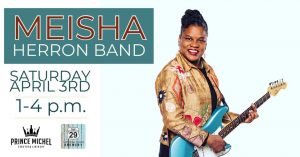 Join us on Saturday April 3rd from 1 – 4 p.m. for live music by the Meisha Herron Band! Meisha is the singer-songwriter and guitarist in this ensemble. The band has a very distinct full sound for a trio. The rock-steady rhythm section acts as a good template for the musicality of Herron's guitar playing and vocals. Playing Bluesy and rocky-Progressive, Melodic Alt-Rock.