SATURDAY AT 4:30 PM EDT – 7:30 PM EDT
Matthew O'Donnell!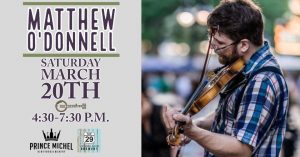 We are thrilled to welcome Matthew O'Donnell back to Prince Michel and Tap 29! Matthew is a one-of-a-kind entertainer, singer, multi-instrumentalist and performer of traditional Celtic folk, American roots and popular music based in Central Virginia. A long time musician and on-stage performer, Matthew has entertained thousands since beginning his act in 2014, establishing himself as one of Central Virginia's premier live entertainers.
Matthew performs a high-energy blend of traditional Celtic music and modern foot-stomping neo-folk. This thrilling melodic spectacle is combined with Matthew's humor, storytelling and lively audience interaction to make for enthralling and unique performances sure to leave any crowd wanting more!!