Prince Michel Vineyard & Tap 29 Brewery
February 28, 2021
1:00 p.m. - 5:00 p.m.
Prince Michel Vineyard & Tap 29 Brewery - 154 Winery Lane, Leon, VA 22725
Prince Michel and Tap 29 are thrilled to welcome Ted Garber to our stage! Ted is a genre-bending multi-instrumentalist whose "BluesAmericanaRock" combines classic showmanship with a captivating singer-songwriter sensibility. His smokey, bluesy vocals, howling harmonica riffs and screaming guitar licks are enticing audiences worldwide, taking us on a diverse musical journey from the Big Apple to the Big Easy, hovering in the Mississippi Delta before heading South of the Border. Ted kicked off his career performing covers on the streets of New Orleans for tips, where he balanced academic studies at Tulane University with his passion for playing. Inspired by the vibrancy of the city and realizing his natural ability to connect with a crowd, he honed his talent for original material. Ted went on to open for the likes of Pat McGee and has performed in venues as diverse as DC's legendary 9:30 Club, Blues Alley, and the Strathmore, LA's The Viper Room, and Nashville's Bluebird Cafe. He is a two time winner of the WAMA Pop/Rock Recording of the Year for his albums "Live At Strathmore" (2011) and "American Rail" (2010), was named DC's Top Entertainer by WUSA-Channel 9, and won On Tap Magazine's Battle of the Bands "Taste of Arlington" Competition in 2006.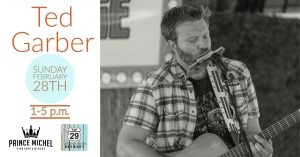 Don't miss his performance on Sunday February 28th beginning at 1:00 p.m. The pub is open and serving all the best grub from 12-5:30. Check out the full menu here: 
https://www.princemichel.com/pub-grub