SATURDAY, FEBRUARY 20, 2021 AT
4:30 PM EST – 7:30 PM EST
Matty Metcalfe & Arin Van Brocklin Live!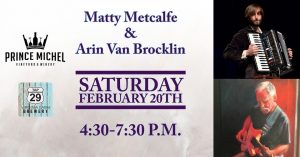 Matty Metcalfe began formal piano training at a very young age but in a moment of teenage rebellion picked up an accordion at a yard sale and began learning Cajun, Irish, and other folk
music on the 'squeezebox'. Since then, he has shared the stage with one of his heroes, Buckwheat Zydeco and performed many times in New Orleans.
He is accompanied by New Orleans native Aric Van Brocklin who grew up singing the songs of Ray Charles, Louis Armstrong and the great soul singers of the day. He is also a virtuosic slide
guitarist and ambassador of Bayou-borne music. The pair great looks forward to playing music of that region: Laissez les bons temps rouler!