SATURDAY AT 12:30 PM EST – 3:30 PM EST
Bud's Collective Live!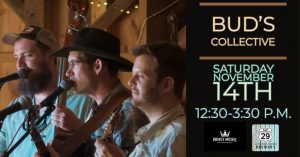 Come on out on Saturday November 14th from 12:30 -3:30 p.m. for live music by Bud's Collective!
Bud's Collective is a powerful group of pickers from the hills of West Virginia. While their music reflects roots firmly planted in Bluegrass tradition, they do not hesitate to add to it in ways all their own. Playing a tasteful mix of front man Buddy Dunlap's original material and popular hits ranging from Stevie Wonder to Alabama and all points in between, Bud's Collective has been making waves in the music scene since the inception of the group in 2012.