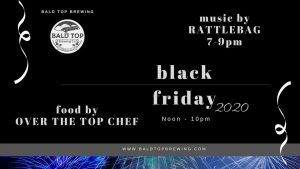 FRIDAY, NOVEMBER 27, 2020 AT
Bald Top Black Friday All Day!
The taps start flowing at Noon today!
Head to Bald Top for exquisite BT beers and turkey recovery cuisine from Over The Top Chef that is guaranteed to help your appetite recover!
We are pleased to welcome back Rattlebag for an awesome variety of blues and rock tunes.  
Plus discounts on all that Bald Top sells at the Tap Barn!