While we have halted our regular Friday & Saturday night live music for the season- the weather forecast for this Saturday provided us with a strong incentive to be outside. It's expected to be 70* this Saturday and the foliage will come with lots of sunshine from the top of the hillside at BQSR.
Fig & The Newtons is a compilation of musicians from your favorite Chardonnays group with a guest guitarist from The Unsuitables! We expect the afternoon to be filled with great tunes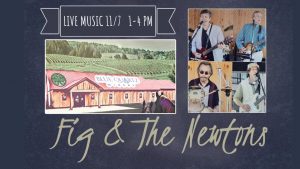 Our kitchen will be open & serving.
*If planning on seating outside- outside food is allowed. Outside food is not permitted for indoor seating.
Indoor seating is available on a reservation basis.
Please visit our website for more information:
Dog  friendly venue (leashes please).