Prince Michel Vineyard & Tap 29 Brewery - Car Show
October 10, 2020
11:00 a.m. - 5:00 p.m.
Prince Michel Vineyard & Tap 29 Brewery - 154 Winery Lane, Leon, VA 22725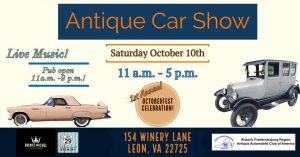 It's our First Annual Octoberfest Musicfest weekend and we have so much happening at the Winery! First up is an Antique Car Show from 11 a.m. – 5 p.m. hosted by the Historic Fredericksburg Antique Automobile Club of America. You will love the display of classic cars along with live music and fantastic food!