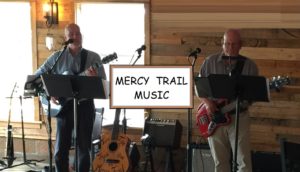 After 12 weeks of laying low, Mercy Trail Music will be playing many of your favorite songs from Saturday 06/06, 1-4pm. We are so much looking forward to seeing many of our friends and familiar faces once again. Bring your song requests and we'll do our best to make it happen.
We will be adhering to all the state mandates regarding safety. We want to get this right. We hope to bring a smile to your day!
Prince Michel / Tap 29 is a great place to be in Madison County. Right off 29 in Leon VA.
Hope you can come join the fun!